Sci Comm
Whats On
Adults
Blogs
My 150 Minutes of FameLab
Tuesday 21st March 2017
Blog by Autumn Neagle.
They came, they performed, they conquered. Our eight fantastic FameLab finalists were at the top of their game for the regional final of the UK's best-loved sci-comm competition.
Our host, YouTube vlogger Sally Le Page, hilariously steered the capacity audience at The Bullingdon through a science-tastic variety show of three-minute brain-melting performances. Themes ranged from DNA drug delivery to compatible-bacteria dating tips, the journey of rubber (including reusable condoms) plus a 'bloody' rap battle and a comedic probe into the murderous properties of fruit. It was a night packed full of puns, plums and trouser jokes and 'the best FameLab Moment Ever' (*probably – read on.)
The unenviable task of judging our quality line-up fell to three science communicators par excellence; Professor John 'Dr Molecule & GM Man' Runions, stats-star Jen Rodgers and Alison Woollard – 'the Simon Cowell of FameLab'. They came fully equipped with lashings of expertise (and a top-up from the bar) on the look out for the three key components of a FameLab winner – content, charisma and clarity. They weren't disappointed.
Highlights included a genius rap odyssey by Tomasz Dobrzycki, a DPhil student studying embryonic development at Oxford who asked: "What has 'blood' ever done for us?" Answer: "White Blood cells – they're like the police, they protect our body from disease."
My personal favourite was Jack Rowbotham, a bioinorganic chemist at Oxford and a natural entertainer who's fruity performance brought the house down with a below-the-belt explanation of the poisonous properties of our five-a-day. His demo, which highlighted the dangers of over-dosing on fruit – involved pulling several pairs of plums (and back up plums) from his underpants (and back up underpants), raising both eyebrows and laughs.
Continuing on from the 'fruit of our loins' theme, Emily Seward, a PhD student studying molecular biology at Oxford, discussed speciation and the laws of attraction in nature, perhaps offering a new angle for online dating with her insights into compatible bacteria. ❤️
Materials engineer / UCL student Anna Ploszajski and her rubber duck elegantly took us through the history and science of rubber, with superb poise, clarity and humour.
.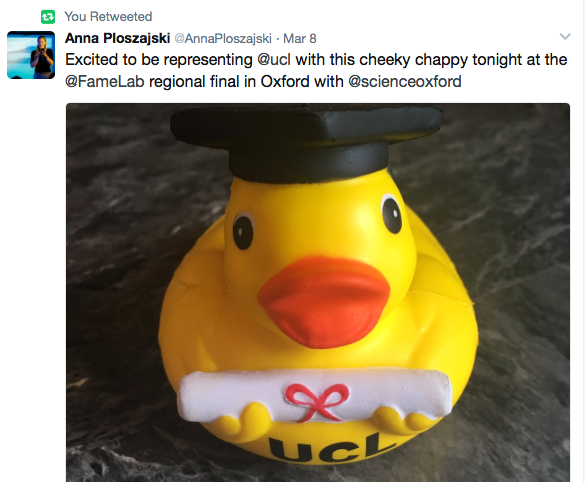 Ramy Aboushelbaya – a DPhil student studying plasma physics at Oxford – hit the spot when he used a bouncing basketball (and managed to keep it on stage) to demonstrate the laws of special relativity.
Bernadetta Dadonaite – a DPhil student studying the flu virus at Oxford – presented us with beautiful DNA origami, patterns and the potential of drug delivery for treating disease.
In a 'Blayze' of glory, Blayze Millward – studying AI with computer science – talked chocolate choices and the brain power behind decision making, AI and voice recognition – a popular choice of topic on #InternationalWomensDay. 

..and finally, overworked student Yayoi Teramoto – studying computation neuroscience at Oxford – asked could a computer ever be programmed to do our homework for us?
And suddenly that was that! As the judges retired to a 'really dodgy flat next door' to deliberate, singing maths teacher and 2016 National winner Kyle Evans entertained the crowd. He announced that as long as he was on stage he would remain FameLab Champion, so happily performed a brilliant (and longer-than-expected) set of songs while the judges argued into the night! A highlight was Kyle's version of '50 ways to Leave Your Lover' by Paul Simon. He completed Paul's measly seven ways with a further 43 More, to much hilarity.. 'No final quickie, Nicky'.
Finally the judges returned. Alison gave a passionate and moving speech praising science research and communication in an era of Brexit, post-truth alternative facts, Trumpdom and government policies. "Getting out there and telling everyone what you do and why you do it is so important. Keep doing it." ✊
And the results were announced! Anna Ploszajski won the top prize, and Wild Card runner up went to Tomasz, giving him a chance to make it into the national UK finals. After an electrifying evening of science, education and imagination – our fingers and toes are crossed for another Oxford win at Cheltenham Festival!
The evening was live-streamed and you can watch it on YouTube.
Check out more photos on Instagram.
Blog and photography by Autumn Neagle Digital Communications Officer at Science Oxford (seen here manning the door for FameLab at The Bullingdon, Oxford)
John Runions is Professor of Cell and Molecular Biology at Oxford Brooked University, Jen Rodgers is Vice President for External Affairs at the Royal Statistical Society and Director of Statistical Consultancy at Oxford University – and Alison Woollard is Oxford University Academic Champion for Public Engagement.
Thanks to everyone who took part and came along!